When considering the things that make a great event planner, many ideas come to mind. One can join a local networking organization, attend conferences and tradeshows, find ways to connect with industry partners one-on-one and explore educational opportunities. Continuing education is important in any field and the event industry is no different. Becoming a Certified Meeting Professional (CMP) allows you to not only provide exceptional service for your clients but also helps you to stay up to date on all the event trends. And, while it certainly isn't a requirement it holds weight and respect within the event and hospitality industry.
President of Right Hand Events, Elise Rollinson, says, "I think it's really important that everyone in the hospitality field works toward getting their CMP. After being in the business for 20+ years I know how important it is for us all to use the same acronyms, share in similar terminology and streamline our practices. If we want to better our industry and improve the way the meeting planner profession is perceived, we need to synchronize and share best practices. The CMP certification is the best way to get us all on the same page."
Nicole Pelot, a Meeting Planner here at Right Hand Events has spent several years learning and absorbing expertise in the hospitality industry. Most recently, she passed the CMP test and now officially holds this esteemed industry designation. Yea Nicole! With such a huge accomplishment under her belt, we naturally wanted to find out all about her journey and the road to becoming a CMP.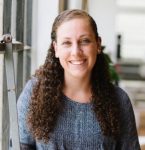 To start, Nicole had to decide how she would prepare for the test. Her main options were to either study on own or sign up for a CMP study group. Luckily both options have ample resources on-line such as study guides and practice tests which can be purchased and utilized to ensure you are fully prepared. Ultimately, Nicole decided a study group was the best options for her and selected Event Solutions on-line course taught by Ellen Maiara, CMP.
Event Solutions offers a weekly two-hour course which Nicole took on-line every Monday at 5 PM (PST). In total there were 15 courses which were all taught live and by Ellen. During the class, students can not only ask questions but also have the advantage of having the session recorded so they can access previous classes if needed. By taking this course, Nicole gained valuable knowledge to prepare for the test and was also able to take 4 practice tests leading up to the main CMP test.
Nicole learned a lot during her time preparing for this test. She shared some of her top tips below which are beneficial whether you use a study group or go it alone!
Preparing:
Flashcards are key! Create them, study them and use them as much as possible.

If you are studying on own, head to the

Events Industry Councils

website and stock up on materials, practice tests and to schedule your exam date.

Focus on studying the items you don't know and avoid overthinking the items you already know.
Practice tests:
Try to take practice tests around the same time of day that your main CMP test will be. This will help you to start getting into the mindset for the big day.

Clear 3 hours of your schedule in order to take the practice test. You may not need all of it but it is good to have it.

Change your scenery and take the practice test in a different environment than where you typically study.
The main test:
Decide the best time of day for you to take the main CMP test. If you are more alert and aware in the AM then schedule your test at that time. If mornings are a struggle for you then don't force yourself to test at that time and pick something later in the day.
If you can, clear your schedule as much as possible the week leading up to the test. Having a stress free week will help you to be mentally prepared for the big day.
We're so grateful for Nicole and know our other team members look forward to putting these best practices to use in their upcoming CMP journeys!