Partially virtual and partially in-person, hybrid events combine the best of both worlds.
From trade shows and conferences to sales kick-offs, hybrid events are the ideal solution for programs that can effectively be held both live and virtually and provide the opportunity for even more people to interact with your content and community.
Hybrids events require the same elements and features as live events. Plus, the addition of virtual streaming enables your audience to participate and engage no matter where they are.
Engagement is more challenging but essential in hybrid events. To ensure attendees get the most from your hybrid events, the virtual journey requires the same level of planning as the in-person experience.
When you meet face-to-face, you can have peace of mind knowing that Right Hand Events always follows and implements all health safety precautions and protocols.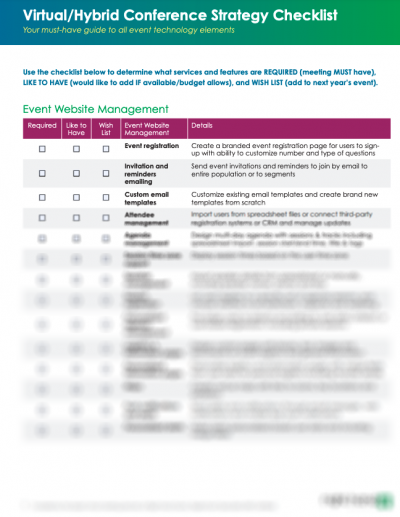 Virtual / Hybrid Conference Strategy Checklist
Your must-have guide to all event technology elements.
Prioritize your needs and make getting started easier.
Expert advice to get you one step closer to a successful event.
Hybrid Event Planning Services
Strategic Meeting Management
Your partner in creating an innovative hybrid event experience.
• Hybrid Strategy & Design
• Overall Budget Management
• Communication Planning
• Attendee Experience & Flow
• Vendor Management
Project Management
Vested in the success of the event, while effectively leading a team.
• Ensure Project Success
• Define Responsibilities
• Manage Timeline
• Maintain Accountability
• Measure Outcomes
Production, AV, & Branding
Collaborate with AV team to create a seamless audio and visual experience both in person and on-line.
• Source Production Partner
• Manage Scope of Services
• Manage Design Team
• Creation of Branding Summary
• Installation Management
Event Management & Staffing
It's show time – manage and execute all aspects of the event.
• Master Checklist
• Onsite Event Managers
• Digital Event Managers
• Hybrid Execution
• Load-In/Load-Out
Hybrid Event Management
Solution oriented event planning allowing for a virtual and in-person experience.
• Hybrid Platform Management
• Virtual & Live Speaker Management
• Creative Attendee Engagement & Swag Management
• Back-end Virtual Moderators
• Day-of Troubleshooting and Chat Moderation
Additional Hybrid Services
Bringing you all the solutions for a successful hybrid event.
• Site Selection
• Venue & Rooming Management
• Food & Beverage Management
• Registration & Travel Management
• Mobile App Strategy & Build-Out
Our experience in the Live Event Planning Industry coupled with an acumen for planning virtual events, makes us the ideal partner for your next hybrid event.
Why Right Hand Events?
● We always go above and beyond
● We are diligent and dedicated partners
● We provide innovative and creative solutions
● We make health & safety precautions a priority
● We treat your event like it's our own
● We care about the people behind the event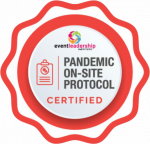 The pandemic will impact meetings and events for the coming months and maybe the coming years – with on-site staff playing a frontline role in monitoring, enforcing, and handling compliance with safety protocols and procedures. Feel confident planning your hybrid or in-person event knowing our staff has been certified in the Pandemic On-Site Protocol.
Reach a wider audience, improve your Return on Events (ROE), and gain valuable insight with on-demand data.