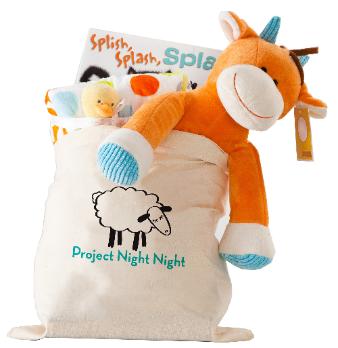 Corporate Volunteer Project Ideas – Bring Your Employees Together & Help Your Community!
We're sharing recent volunteer team building project ideas to make an impactful and unforgettable experience for your employees.
Over the years we've done many different volunteer projects for corporate groups. Each volunteer project is carefully selected to match both the companies' employee interests, and the true needs of the local community. From building skateboards for disadvantaged youth, to trash cleanups and gardening projects, to assembling SAT prep kits for high school seniors, there are many ways you can bring your employees together for a day of fun, team-building, and making your community better.
Over the summer we organized two volunteer stations at a summer family day for some of Qualcomm's employees. Held at Petco Park, the event was a day full of food, fun, and giving back! The employees and their families loved having volunteer activities as a part of their day.
Night-Night Bags for Homeless Youth at the San Diego Rescue Mission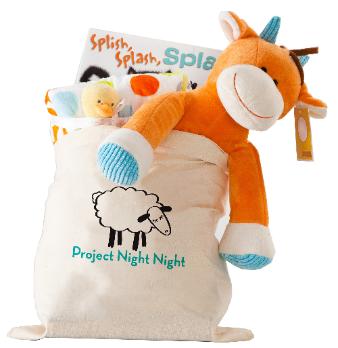 The picture shown here from Project Night-Night was our inspiration for this project. Youth who are staying at shelters like the San Diego Rescue Mission often have very few possessions with them when they arrive. Night-Night Bags contain not only basic necessities like a toothbrush and toothpaste, but also comfort items like a blanket and stuffed animal, and items to give them something to do like a book to read and markers to color with.
For this project, we were able to find low-priced backpacks through Dollar Days to fill so that the children receiving the bags could carry them easily. Volunteers started by assembling and decorating activity books. We found free printable activity sheets like these, which the volunteers then added a card stock cover to and decorated with stickers and inspirational messages. Also in the bags were a new book, a reading light, markers, a blanket, and a stuffed animal.

No-Slip Socks & Emergent Kits for Low-Income Seniors
Safety is a high priority for the seniors living in poverty that are helped by local nonprofit, Serving Seniors. This project with a big hit with kids and adults! Volunteers started by making no-slip socks using puffy paint and their imaginations. Next, they assembled emergency kits that included items like a small bottle of water, a flashlight and batteries, and a first-aid kit.

The most important thing to consider when planning your corporate volunteer team building project is to work closely with local nonprofits and make sure the work your employees do is truly meeting a need in the community. Second most important tip: Have fun!