Here's what people are saying about our events and our team.
Right Hand Events will create an amazing and seamless event experience for your attendees. Check out these video testimonials from guests and speakers at Social Media Marketing World; the largest social media conference in the world, and from our client at Natural High; an inspiring non-profit keeping kids off drugs.
Recent Clients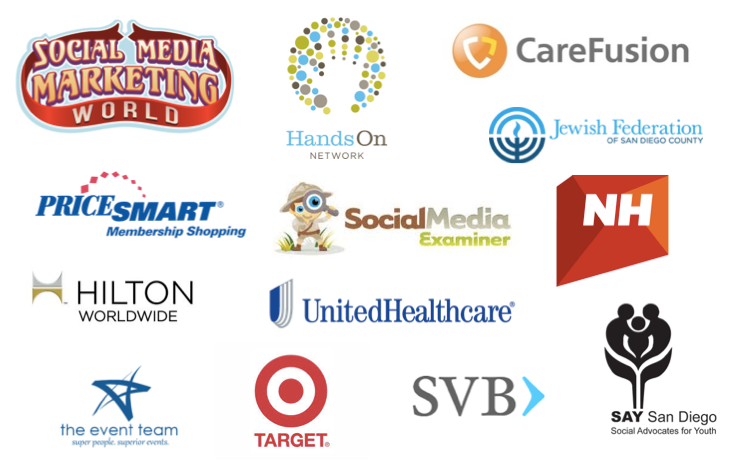 Here are some of the many events our team has produced over the years.
Corporate Meeting and Conference Management
Meeting Type
Company/Industry
Location
Attendance
Social Media Marketing World
Social Media Examiner
San Diego, CA
3000 attendees
Petco Sales Meeting
Petco Animal Supplies
Boston, MA
1600 attendees
Regional Sales Meeting
Pharmaceutical
Las Vegas, NV
120 attendees
Legal Retreat
Pharmaceutical
Austin, TX
150 attendees
National Sales Meeting
Medical Device
Newport Beach, CA
150 attendees
Meeting / Training
Association
Laguna Beach, CA
50 attendees
Incentive Travel and Customer Events
Sales Incentive
Computer Science
Kauai, HI
60 attendees
Sales Incentive
Mortgage Company
Acapulco, Mexico
80 attendees
Sales Incentive
Mortgage Company
Vancouver, BC
300 attendees
Customer Outing
Industrial Materials
Pebble Beach, CA
60 attendees
Customer Symposium
Industrial Materials
Las Vegas, NV
40 attendees
President's Club
Medical Software
Maui, Hawaii
60 attendees
Sales Incentive
Procurement Services
Maui, HI
50 attendees
Sales Incentive
Beverage Company
Los Angeles, CA
45 attendees
Sporting Events and Tailgate Parties
NFL Super Bowl Incentive
Telecommunications
Tampa Bay FL
200 attendees
College Bowl Incentive
Water Purification
San Diego, CA
300 attendees
Corporate Tailgate Party
Water Purification
San Diego, CA
1000 attendees
MLB All-Star Game Incentive
Telecommunications
Boston, MA
60 attendees
MLB World Series Event
Computer Manuf.
New York, NY
50 attendees
NFL Super Bowl Incentive
Computer Manuf.
San Diego, CA
30 attendees
Masters Golf Tour Incentive
Bank
Atlanta, GA
30 attendees
Corporate Tailgate Party
Education
San Diego, CA
800 attendees
US Open Customer Event
Bank
Pebble Beach, CA
20 attendees
Bethpage Black US Open
Bank
Long Island, NY
10 VIP group
Non Profit Galas and Festivals
50th Anniversary Celebration
MAAC
San Diego, CA
200 attendees
Men's Fundraising Event
Jewish Federation
San Diego, CA
1000 attendees
Fundraising Gala
Natural High
San Diego, CA
500 attendees
Annual Conference
San Diego Grantmakers
San Diego, CA
150 attendees
Corporate Functions, Tradeshows and Registration Projects
Tradeshow Management
Solar Power
Victoria, BC
10+ tradeshows
Conference Registration
Pharmaceuticals
San Diego, CA
150 attendees
Industry Road Show
On-line Advertising
8 Major Cities (USA)
350 attendees
Corporate Group Volunteer Events
Global Volunteer Day
Pharmaceuticals
San Diego, CA
500 attendees
Volunteer Day
Cable Company
San Diego, CA
300 attendees
Volunteer Project
Business Software
San Diego, CA
150 attendees
Group Volunteer Project
Association
National City, CA
200 attendees
Corporate Volunteer Day
Semiconductor Co.
San Diego, CA
50 attendees
Volunteer Activities
Pharmaceutical
Austin, TX
120 attendees
Library Makeover
Retail Merchandise
Chula Vista, CA
100 attendees
Corporate Golf Tournaments
Fairmont Pierre Marques
Mortgage
Acapulco, Mexico
40 players
Olympic View
Mortgage
Victoria, BC
60 players
Pebble Beach
Industrial Materials
Pebble Beach
60 players
TPC Scottsdale
Industrial Materials
Scottsdale, AZ
40 players
Kapalua Bay
Procurement
Maui, HI
30 players