Focus on the big picture – we'll manage the details.
Over 40 years of combined experience.
100's of successful stress-free corporate events.
Across all types of markets, clients, sectors.
Always on time and under budget.
Our clients know their event is safe in our hands.
– Or –

See what attendees of Social Media Marketing World said about the event we helped plan and execute
Clients and Partners Who Trust Us With Their Events:
Stress Free Corporate Event Planning
When it comes to corporate event planning and management you can count on our 40+ years of combined experience in the event planning industry.
From negotiating a fair venue contract to reconciling the final budget, our team will make sure your event is a great success from start to finish.
We are masters of project management and will carefully execute a thorough conference timeline. Right Hand Events understands what it takes to maintain a budget, to secure vendors and to train and manage conference staff.
As seasoned planners we are excellent at communication and multi-tasking throughout the event planning process.
Right Hand Events offers a professional corporate event planning team that can focus on the logistics, details and operations of the conference, allowing our clients to focus on the content, message and attendee communication goals. It's the perfect partnership for a flawless event, let us be your right hand!
Call 619-754-9490 to find out how we can help make your event a real success.
Areas of Expertise:
Site Selection and Contract Negotiations
Budget Management
Conceptual and Creative Theme Development
Speaker, VIP and Celebrity Guests
Food and Beverage Planning
AV and Production Support
Custom Event Registration and Web Design
Vendor Selection and Management
Transportation Coordination
Décor and Entertainment Arrangements
On-site Logistics and Staffinf Management
Gifts Awards and Giveaways
Event Martketing and Social Media
Why choose Right Hand Events as your corporate event planning partner?
Hourly a-la-carte services, monthly retainers or project management fee structures. Allowing our clients to choose where they need assistance the most with their event.
Higly skilled team of knowledgeable, team-centric meeting professionals and on-site event staff.
Helping clients support the destination community by incorporate a unique Group Volunteer Teambuilding Experience into their events.
Right Hand Events believes that Customer Service to our clients and their end users, employees and customers is top priority.
Dedicated account manager who acts as an extension of your internal organizational team.
We customize each and every partnership to accommodate your requirements, budgets and goals.
Right Hand Events is a Certified Woman Owned Business.
Right Hand Events is a certified member of IATAN (International Airlines Travel Agent Network), a globally recognized accreditation program servicing the US Travel and Tourism industry for more than 20 years.
No matter what type of corporate meeting, event, or conference your company is planning, Right Hand Events has the skills and expertise to provide a smooth planning process and professionally executed meeting or conference.
Meet Right Hand Events Founder Elise Rollinson:
"I wanted to let you know how truly exceptional you all are in meeting planning! You were truly amazing and I have already been getting great feedback from clients of the ancillaries. Your patience and organization are second to none and I just enjoyed working with you all. I was very nervous going into this meeting but you made me feel so secure that everything and everyone with ancillaries was handled. I cannot say Thank You – enough!"

-Sandon B, Director of Sales, Third Party Planning Firm,
Los Angeles, CA
What next? Schedule your free consultation
or call 619-754-9490 to find out more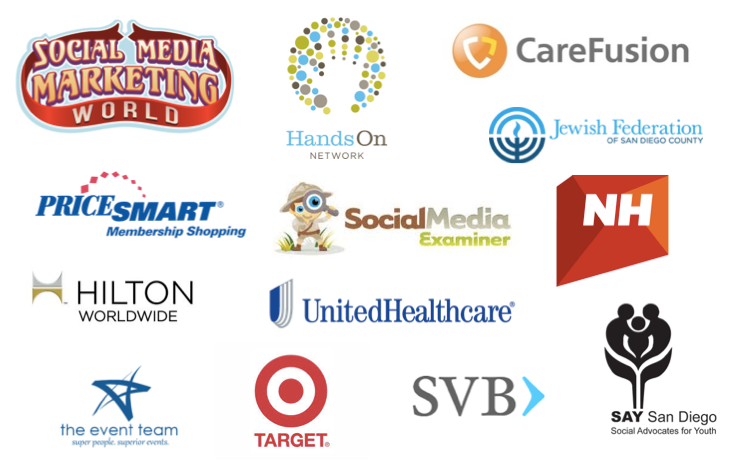 UnitedHealthcare – Teambuilding
Social Media Examiner – Speaker Management
Social Media Examiner – Networking