Have you considered adding a golf simulator to the main stage at a show? We tried it last weekend with our client ProKids, The First Tee of San Diego and it was very cool!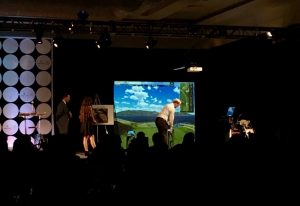 The simulator was used to replicate two holes at Pebble Beach, where one of the youth in the program asked honoree and professional golfer, Charley Hoffman, to play her in two holes at Pebble Beach.
It was a nice touch to the show, bringing in the interactive element of what ProKids is all about – golf. The simulator looked really awesome and definitely gave the feel of being at Pebble Beach. It's a fantastic way to bring golf into the ballroom and liven up the main stage.
We worked with Full Swing and used their S215 Single ion Simulator, placing it stage right. Watch your sight lines, it needs to sit back a little and requires extra stage space. We had to move some tables around so everyone could see it. The simulator takes a little while to "warm-up" and seemed to put itself to sleep, so make sure it is on at least 10 minutes before you need to use it. Definitely let your production company do some test runs. We used Allstar Group for this event, so I am sure you could get the technical scoop from them. Also, practice the plan and pay attention to what will be said on stage during transition time between holes.
We highly recommend this fun, interactive addition to your program.