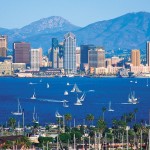 I know that I am partial to San Diego, but if you are looking for a place to hold a meeting or event, why not San Diego?  Yes, of course it is a great place in the summer, but where else is it sunny and 75 in December?
Sure, you may know that San Diego has GREAT weather, but did you know San Diego has some of the best restaurants in the country?  This place is foodie heaven!  All of the different neighborhoods offer an array of wonderful restaurants that are incredible!  Enjoy a nice lunch on the beach in La Jolla, have drinks at a trendy bar in NorthPark, then join the fun for dinner in the Gaslamp District.
Come out and see what San Diego has to offer.  I promise you won't regret it!