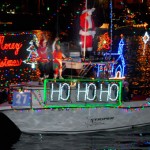 It's that time of year again!  That's right, the Parade of Lights is back again.  I went to it last holiday season and it was so fun to be a part of the annual holiday tradition in San Diego!
The boats parade around San Diego Bay decorated with lights and blaring music with different themes.  This year's theme is "Big Bay Toy Parade" which will be interesting to see what the boat owners come up with!  The parade starts at Shelter Island and moves down along Harbor Island, the Embarcadero, Seaport Village and ending at the Ferry Landing in Coronado.
It is definitely a site to see so don't miss out!
Parade Dates:
Sunday, December 8th
Sunday, December 15th
Approximate Times:
Shelter Island (Start) – 5:30 PM
Harbor Island – 6:00 PM
The Embarcadero – 6:30 PM
Seaport Village – 7:00 PM
Ferry landing on Coronado – 7:30 PM